SCROLL CONSERVATION
---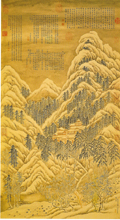 How do I care for my Chinese painting and calligraphy in a scroll format? What do I need to know about restoring a Chinese scroll painting on paper and silk? Many art owners come to me with this type of question. They also need advice on the care of a Chinese painting and calligraphy on silk and paper, such as climate control, mending tears, consolidating flaking paint, etc. Since such requests are likely to continue, I intend to address some basic issues and make some basic recommendations on the restoration of Chinese scroll painting. In short, a Chinese art owner should first understand the nature of the problem, the scope of work for a proper restoration and adequate conservation techniques applicable to the restoration of your painting. Second, you should investigate the proposed restoration procedure and the techniques by reading some articles on the topics. Third, you should consult a qualified Asian fine art expert before engaging the services of a painting restoration specialist.

Regarding the conservation of Asian Fine Arts in a scroll format, we have the following suggestions:

DO NOT restore your damaged silk/paper painting unless it is necessary. If the painting is not in a severely deteriorated or damaged condition, do not restore it. The restoration of a precious painting on silk and paper can be very risky if the restorer does not follow the traditional methods or lack the necessary knowledge of the treatment of a damaged painting. Not only the restorer's understanding of the painting meidum (silk, paper, satin) but also his hand-on experience on identifying the physical features of the medium (age, structure, strengh and weakness) in question are at play. A proper restoration of a Chinese paintings on silk or paper, for example, demands not only an art historian's knowledge of the artist and his artistic merits, a Chinese painting mounting specialist's skills and knowledge of traditional Chinese mounting styles, aesthetics and techniques. In short, the restorer's ability to identify the material in question, its age and causes for problems is the base for an appropriate painting restoration.
---
IMPACT OF A QUALITY SCROLL RESTORATION
-Quality of Restoration Affects Value, or Marketability

Restoring a traditional Chinese scroll painting is a serious business. Unless you know what you are doing, or have a general knowledge of traditional Asian paintingís mounting styles and restoration techniques, you may run into many obstacles before you have your damaged painting restored or cleaned to its original glory. Please keep in mind that a failed restoration often leave a deep dent on the value of a Chinese antique painting. A repeated restoration should be avoided, since the treatment of the medium would default the medium's original texture, surface color, casting doubt on the authenticity of the painting. If a restoration is necessary, consulting an Asian painting specialist in person before commissioning a restoration is wise.

The differences between an acceptable craftsman and a restoration specialist often lies in either attributing to or diminishing the value of a Chinese antique painting. The specialist should have some knowledge of the proper restoration techniques, treatments, and and medium adopted in repairing an antique Chinese painting. First, the restorer needs to diagnose with high accuracy the causes of a problem and thinking through the likely restoration options. Second, he has to design a restoration plan with great details spelt out clearly on each step and its anticipated results or consquences. Third, he must be aware of some good remdies to deal with unexpected poor results or futher damages.

The truth is that the ability of "a Painting Doctor," like a "M.D." in the medical practice, varies from one specialist to the other. Sometimes, it is hard for a layman to judge the skills of a "painting doctor" and the quality of his services. To further complicate the situation, a failed restoration may result in serious consquences, such as a complete destroy of the painting or a diminish in value due to restoration problems. Moreover, never engaging the services of an oil painting restorer to restore your ink and watercolor based Chinese scroll painting on silk and paper. Some oil painting restoration treatments or methods may be applicable to the repairing of a damage Chinese painting. However, the restorer's knowledge of Asian silk and paper of various dynasties, and his skills or approaches to the restoration of aged silk and paper might determine the restoration results.
---
HOW TO ENGAGE A PROFESSIONAL CONSERVATION SPACIALIST
-Finding a qualified conservation specialist is crucial.

You need to find the right kind of expertise in restoring your damaged scroll in paper or silk, since mounting aesthetics for Chinese painting and Japanese painting are different. The conservation or restoration methods reflect different cultural traditions, materials and techniques, therefore, working with the right scroll restorer is essential. You need a trained Chinese scroll mounting and restoration specialist to treat your Chinese paintings and a Japanese specialist to take care of your Japanese works.

Asking an Asian painting specialist to assess the value of the painting prior to restoration is recommended. By knowing the value of your damaged Chinese antique, you may make an informed decision on restoration. Either in the form of an appraisal or restoration consultation, a qualified Asian painting specialist would give you sound guidance. After examining the condition of the damaged painting, identify the problem and causes, the art propessional will estimate the restoration cost in light of the fair market value of your damage work. Based on the painting specialist's findings, you may not want to restore the painting if the restoration cost exceeds the value of the painting. Unless the damaged art has sentimental value to you and your family, you donít want to invest serious money on restoring a painting of limited or no value.

Engaging a qualified restoration specialist for quality services is a good remedy for avoiding disaster. Restoring a valuable painting is not a quick fix but a serious commitment to a proper treatment of your painting and bringing your damaged painting to its original glamour with very little trace of restoration. A good restoration increases the value of a painting while a bad repair or cleaning ruins everything.

Asking the restoration specialist questions and treatment options before executing the restoration. Conducting some research on the outcomes of the proposed treatments and the reputation of the restorer is a must.

Visiting the restoration workshop in person is necessary. Understanding the restoration plan for your painting, paying attention to the professional manner of the restoration specialist, and reviewing some sample restorations will give a peace of mind on entrusting your painting to the restorer. Make sure that you understand everything about the restoration of your damages painting, including the possible consequences and planned solution to these problems before you sign a contract.

Taking a set of photos of your painting before sending it to the conservation lab for conservation advice is recommended. Make sure that you have the close-ups of the damaged areas and its surroundings in case you need visual evidence to resolve some unpleasant complications post restoration.
---
HARMFUL CONDITIONS FOR SCROLL PAINTING
Most artwork is susceptible to deterioration from light, humidity, temperature, insects, dust, salt and vibration as well as the dents, knocks, chips and tears that come from contact with human beings.
Light: Keep your Chinese scroll painting out of direct sunlight and reduce artificial lighting where possible.

Humidity: Keep your paintings in humidity between 40% and 60%. Avoid fluctuating changes in humidity to reduce the possibility of mold and insect damage.

Temperature: Avoid extremes of temperature change in the space where your artwork is on display.

Dust: Keep artwork free of dust. Dust the surface of a painting on silk or rice paper with a soft cloth or feather if necessary.

Salt in the air encourages corrosion. Use air conditioning to reduce this danger.

Vibration: Avoid transporting scroll paintings without compensating for vibration by careful packing and support.

Contact with human: Avoid touching the surface of a scroll painting with the hands, which will speed the color deterioration.

Presentation and Storage: Hang the painting on interior walls rather than exterior walls, and place it on a flat, clean, dry and pest-free surface if not hanging.
We aim to provide you with quality professional Chinese art consultation and Asian art appraisal services at a cost you can afford.
Need quality Asian art consultation and appraisal? please Contact Us, or call us at (609) 688-6891.
---